My Silent PC project
silent-pc@web.mirar.org
---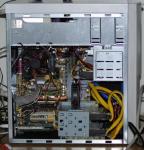 My old case had several problems.
Noise. It did not dampen noise enough; and just the turbulence from the fans needed to keep it remotely cooled were rather loud.
Heat. The air intake and air exhaust were not wide enough to allow enough air in with silent fans (Papst).
Space. A normal minitower is too crowded for my needs. 4 card slots used, 3-4 disks, CD and CDR and all the wiring that goes with that.
I decided to design and build a case that would address this. The needs would be:
Silence. It would need to be heavy and dampening enough. A thin metal case is not the way; perhaps with heavy dampening mats.
Cold. It would need air ducts wide enough to handle lot of air without turbulence, and lots of spaces for fans.
Space. It should be easy to work in; not much screwing and pulling out irrelevant cables to remove a hard disk. Or a PCI card.
Simplicity. I should be able to build it. And I'm not /that/ handy with tools.
Someone mentioned MDF board on the Silent PC list and then I decided to build the case in that material, and adding dampening mats.
There is too much expensive tools needed in building in metal, anyway. 1cm copper would be cool, though. :)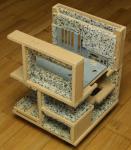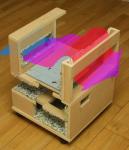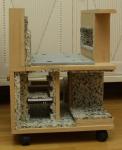 The case I designed had:
Silence. MDF board and dampening mats.
Cold. 5 80mm intake fans and wide air ducts.
Space. Enough space for 4 disks, 4 5½" units and 3 3½". And easily accessible mother board and PCI cards.
Simplicity. Well, enough, anyway. MDF board is easy to work with. Just screws and wood glue.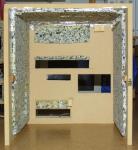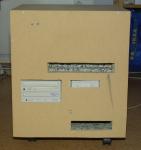 The lid is the simplest design possible. It's just four sides of the case, with holes cut out in the front. No buttons or indicator lamps. I will do something with the outside later, because now it's, frankly, quite ugly.
I tried various fans for the box. The most quiet is the 12dB Papst. The 14-19dB Enermax is not quiet.
Now, what was the outcome? Did it help?
Silence - sure. Rather nice, maybe 15-20dB. Not silent though. Lot of turbulence noise.
One thing is very nice - i can't hear the disks. I can hear the old whiny IBM in spin up, but no seeking noise.
Cold - sure. No problem there. A 8412NGL Papst running at 12 V needs more then 4 cm space in front of it to run without turbulence, though. I estimate maybe 6 cm. No space for that...
Space - well, lots of wires. Not much to do about that. I can add lots of stuff without inconvenience, though. And no crawling to mount PCI cards.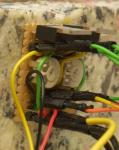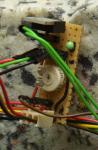 So I had to work more on the noise and the fans. First attempt was to run the Papst at 7 volt. They run fine at 7 volts, but the case is not cool enough. So I ran 4 fans at 7 volts and 1 at 12 volts. It worked, but the turbulence came back.

I found simple temperature controlled voltage regulators on the net. So I decided to buy components and build them.

This worked very nice. Now the fans run at 8-10 volt and it cools enough while not creating any noticeable turbulence. And the CPU fan is inaudible when the CPU is cool enough. I also added an air duct for the upper fans to enhance the air flow.

---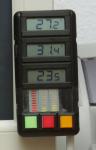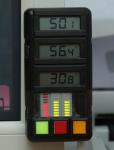 I also build a control box, with thermometers and indicator and stuff. It's connnected via a 25 pin d-sub, so I can unplug it at leisure.

It consists of
three thermometers (currently gpu, cpu, and and temperature of the air that is blown to the cpu heatsink),
three voltage indicators (the cpu fan, and upper and lower fan groups),
three lighted buttons:
green one for power / power led,
red one for reset / hdd led,
yellow one for suspend / suspend led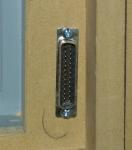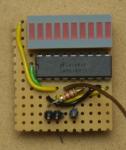 The voltage regulator was very easy to build, given the right components. It needs three components, the bar graph LED, the bar graph chip and a fixed resistor.

---
Here's the final result with all the stuff added: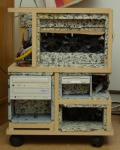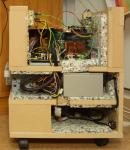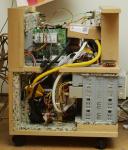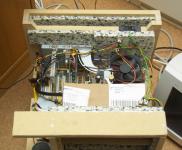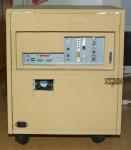 ---
Final outcome is rather nice. Maybe 5-15dB. Not inaudible, but I can't hear it from 5 meters away and I can't hear it if I open the window to get some background noise. A little more audible (10-20dB) when it's hot.
Things to note:
A Papst 8412NGL is quiet, but not silent. The fan at 7V is silent, but doesn't blow much air.
MDF + aluminium foil + foam is more quiet then just MDF + foam.
A voltage regulator is easy to build.
A case out of MDF is not that easy to build, but a fun project.
There is always something that is most noisy.
---

Physical characteristics:
Dimensions: W:435 D:415 H:490 (mm) without wheels
Weight: 32kg

What's inside the case? This is what to have to be cooled:
Athlon XP 1900+ 1600MHz, 512MB RAM
Gainward Geforce 2 MX 400 Golden Sample
Soundblaster Live something
Hauppauge TV+Radio

Seagate Barracuda IV 80Gb
IBM 120GXP 80Gb
IBM old 16Gb

CD SONY CDU4811 40x
CD-R PLEXTOR PX-W1610A 40/16/10x
Matsushita (?) floppy

Enermax 350W PSU with the 92mm fan removed, and the temperature probe dislocated to be quiet
5x Papst 8412NGL
The voltage regulators
For discussions about silent PCs, see the Silent PC mailing list.